Friuli Venezia Giulia Alps

Your search
Tarvisio and surroundings: Hotels, B&B, Residence and holiday apartments
Hotel il Cervo is located in Tarvisio, a small town placed in the North-Eastern corner of Italy, right near the Austrian and Slovenian border. You will experience the emotion of three European countries in just one holiday, discovering culture, traditions, food and wine.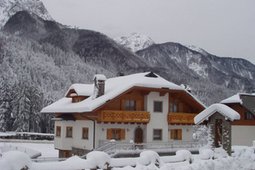 Located between the highway exits of Pontebba and Tarvisio (Alpe Adria A23), the hotel restaurant La Baita has been managed by the Buzzi family for over 25 years. It has 20 rooms, 43 beds, private bathrooms, telephone, TV and wooden furniture and is wheelchair accessible.
The hotel Al gallo Forcello.1530 is located in Friuli-Venezia-Giulia, in the district of Udine, 300 m from the Austrian and 30 km from the Slovenian border at 1,530 m on top of the Passo di Pramollo/ Nassfeld, pleasant location next to a small lake.
offers
05/12 - 25/12/2019

from 179€ for 3 days

20/12 - 29/12/2019

from 349€ for 3 days

26/12 - 02/01/2020

from 849€ per week
Characteristics
Tarvisio is nestled between the Julian and the Carnic Alps, between Austria and Slovenia, a hub of different cultures and traditions. The position of Villa Jutte is unbeatable: you can reach on foot the golf course, the ski slopes, the Alpe Adria bike trail and much more!
offers
05/12 - 08/12/2019

330€ for 3 days

07/01 - 30/01/2020

from 480€ for 4 days

16/03 - 31/03/2020

from 480€ for 4 days
Characteristics
The guest house Da Lisi lies only 3 km from Malborghetto Valbruna, in a beautiful location in Val Canale, at the foot of the mountain massif of the Julian Alps, near the ski slopes of Tarvisio. The guest house has wonderful apartments deep in the midst of the nature.
offers
21/12 - 28/12/2019

580€ per week

11/01 - 08/02/2020

560€ per week
Characteristics
Located in the centre of Tarvisio, Hotel Tarvisio benefits from a great position just in front of Campi Duca D'Aosta ski slopes and a 5-minute drive from the Austrian border. It offers free parking, free Wi-Fi and a furnished 500 sqm garden.
offers
06/01 - 31/10/2019

500€ per week

06/01 - 31/10/2019

from 690€ per week
Characteristics
The B&B Alte Schule is located in the centre of the village of Pontebba (UD). The house, very well preserved and furnished with attention to detail, has two rooms with private bathroom and a comfortable living room.
The Apartments Residenze al Tiglio are located in Rutte Piccolo and offer a very special view of the Ponze mountain range, dominated by Mangart mountain, the second peak of the area. The location represents a strategic starting point to discover the surroundings.