hotels and apartments
sport and leisure
localities
information

Your search
Tarvisio and surroundings: Hotels, B&B, Residence and holiday apartments
Hotel il Cervo is located in Tarvisio, a small town placed in the North-Eastern corner of Italy, right near the Austrian and Slovenian border. You will experience the emotion of three European countries in just one holiday, discovering culture, traditions, food and wine.
Located between the highway exits of Pontebba and Tarvisio (Alpe Adria A23), the hotel restaurant La Baita has been managed by the Buzzi family for over 25 years. It has 20 rooms, 43 beds, private bathrooms, telephone, TV and wooden furniture and is wheelchair accessible.
The hotel Al gallo Forcello.1530 is located in Friuli-Venezia-Giulia, in the district of Udine, 300 m from the Austrian and 30 km from the Slovenian border at 1,530 m on top of the Passo di Pramollo/ Nassfeld, pleasant location next to a small lake.
deals
15/06 - 30/06/2023

from 150€ for 3 nights

15/06 - 05/08/2023

429€ per week

05/08 - 27/08/2023

from 529€ per week

27/08 - 06/09/2023

429€ per week
Characteristics
La Luna delle Montagne is an exclusive chalet on the only high-altitude beach of the Slizza stream in Tarvisio, immersed in the Natural Park of the Julian Alps. Not the usual hosting! The owners have the desire to make you experience real emotions with the Friends of the forest.
deals
07/03 - 31/03/2023

from 100€ per night

06/03 - 02/04/2023

from 100€ per night

06/03 - 02/04/2023

from 600€ for 3 nights

20/03 - 02/04/2023

400€ for 2 nights

07/04 - 10/04/2023

from 600€ for 3 nights
Characteristics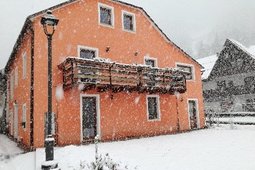 The guest house Da Lisi lies only 3 km from Malborghetto Valbruna, in a beautiful location in Val Canale, at the foot of the mountain massif of the Julian Alps, near the ski slopes of Tarvisio. The guest house has a wonderful apartment deep in the midst of the nature.
Located in the centre of Tarvisio, Hotel Tarvisio benefits from a great position just in front of Campi Duca D'Aosta ski slopes and a 5-minute drive from the Austrian border. It offers free parking, free Wi-Fi and a furnished 500 sqm garden.
deals
01/01 - 19/12/2023

700€ per week
Characteristics
In the centre of Tarvisio, in Via Veneto 42, on the 3rd and last floor with lift of the Rododendro complex, a large two-room apartment is rented for holidays and can accommodate up to 4 - 5 people. The apartment (approx. 70 sq m) consists of a living area and a sleeping area.
deals
06/04 - 16/04/2023

120€ per night

13/03 - 23/06/2023

from 100€ per night

17/07 - 27/07/2023

1250€ for 11 nights

12/08 - 19/08/2023

1050€ for 8 nights
Characteristics
Live an unforgettable holiday in Tarvisio, Julian Alps, on the triple border between Italy, Austria and Slovenia. Two nice apartments located in Camporosso in Valcanale in the Municipality of Tarvisio (UD), easily accessible by motorway A23 (2km from the last exit in Italy).
This semi-detached first-floor apartment features a private balcony with mountain views, larch wood floors, white furnishings, and free Wi-Fi. In the living room, you'll find a kitchenette (the kitchen is equipped with an electric oven and micro-waves).
Apartment Al Girasole for summer and winter holidays. The apartment is located in Camporosso, a hamlet of the village of Tarvisio, Valcanale (UD). It can be rented for a week or for a minimum of three nights.
deals
07/04 - 11/04/2023

390€ for 3 nights

13/08 - 19/08/2023

840€ for 6 nights
Characteristics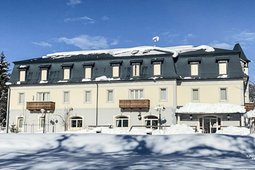 Hotel Saisera is located in Valbruna, at the beginning of the magnificent Val Saisera, which is easily reachable by motorway from the Venice-Udine-Tarvisio exit. This wonderful structure of the early 1900s has been restored to its former glory.
The Apartments Residenze al Tiglio are located in Rutte Piccolo and offer a very special view of the Ponze mountain range, dominated by Mangart mountain, the second peak of the area. The location represents a strategic starting point to discover the surroundings.