Your search
Hotels Friuli Venezia Giulia Alps
Tarvisio, Carnia, Piancavallo and Friulian Dolomites: small hotels, pensions (guest houses), aparthotels
Hotel il Cervo is located in Tarvisio, a small town placed in the North-Eastern corner of Italy, right near the Austrian and Slovenian border. You will experience the emotion of three European countries in just one holiday, discovering culture, traditions, food and wine.
Forni di Sopra (Friulian Alps)
The Hotel Edelweiss, located in the heart of the Friulian Dolomites Natural Park and within walking distance from the center, is ideal for those looking for a holiday in the mountains between sports and adventure, but also relaxation and hospitality in a family environment.
deals
07/01 - 28/03/2021

246€ for 3 nights

08/01 - 28/03/2021

198€ for 2 nights

08/01 - 28/03/2021

191€ for 2 nights
Characteristics
Located between the highway exits of Pontebba and Tarvisio (Alpe Adria A23), the hotel restaurant La Baita has been managed by the Buzzi family for over 25 years. It has 20 rooms, 43 beds, private bathrooms, telephone, TV and wooden furniture and is wheelchair accessible.
deals
11/01 - 05/02/2021

from 280€ for 4 nights
Characteristics
The Hotel La Perla fits in the beautiful Carnia's landscape that during the winter offers a wonderful snowy landscape, while during the warm season shows a riot of colors and scents coming from the meadows and the surrounding woods.
deals
04/12 - 28/03/2021

from 99€ per night

04/12 - 28/03/2021

from 93€ for 2 nights

04/12 - 28/03/2021

from 90€ for 2 nights
Characteristics
The hotel Al gallo Forcello.1530 is located in Friuli-Venezia-Giulia, in the district of Udine, 300 m from the Austrian and 30 km from the Slovenian border at 1,530 m on top of the Passo di Pramollo/ Nassfeld, pleasant location next to a small lake.
The property has finely decorated rooms with bathroom, satellite TV and wi-fi and two restaurants where you can sample dishes of Italian and Carnic tradition. Hotel Gortani is wanting for you for an active vacation, lots of sports, contact with nature and fun.
deals
26/12 - 21/03/2021

from 79€ per night

26/12 - 21/03/2021

from 135€ per night

23/12 - 28/03/2021

from 590€ per week
Characteristics
Forni di Sopra (Friulian Alps)
Due to its particular location, the Hotel Davost can be defined as a real sport center. In fact, in addition to representing an excellent starting point for hikes of any level, it offers in its immediate vicinity a number of complete sports facilities, ski runs and much more.
deals
10/01 - 28/03/2021

49€ per night
Characteristics
Located in the centre of Tarvisio, Hotel Tarvisio benefits from a great position just in front of Campi Duca D'Aosta ski slopes and a 5-minute drive from the Austrian border. It offers free parking, free Wi-Fi and a furnished 500 sqm garden.
Vito d'Asio (Piancavallo and Friulian Dolomites)
The hotel is located in Anduins, hamlet of Vito d'Asio, in the heart of Val d'Arzino. It is only a few kilometres from San Daniele, famous for its ham, from the mosaic village Spilimbergo and from Maniago, known for its knives.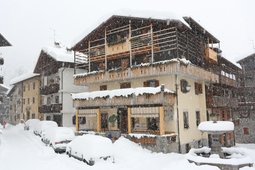 Forni di Sopra (Friulian Alps)
The Coradazzi Family, that has welcomed its guests for generations with warmth and professionalism, will be happy to make you spend a holiday of relaxation and good food, ensuring the utmost care in every detail so that you will long think about your stay in this hotel.
Hotel Saisera is located in Valbruna, at the beginning of the magnificent Val Saisera, which is easily reachable by motorway from the Venice-Udine-Tarvisio exit. This wonderful structure of the early 1900s has been restored to its former glory.
The Borghese is a family-run hotel located in a small town near Montereale Valcellina, at the foot of the Friulian Prealps. This accommodation facility, which is managed by the Borghese Family since the beginning of the 19th century, offers 20 comfortable rooms.