Holidays in the Friuli Venezia Giulia Alps

Your search
Carnia: Hotels, B&B, Residence and holiday apartments
The scattered hotel Comeglians represents an innovative tourist offer aiming to bring to you the authenticity of the territory, in order to help you enjoy the slow life of the village and find a connection with the unspoilt nature.
Forni di Sopra (Friulian Alps)
The Hotel Edelweiss, located in the heart of the Friulian Dolomites Natural Park and within walking distance from the center, is ideal for those looking for a holiday in the mountains between sports and adventure, but also relaxation and hospitality in a family environment.
offers
23/08 - 25/08/2019

90€ for 2 days

26/08 - 31/08/2019

490€ per week
Characteristics
The apartments are scattered all around the village, but they share a common reception, which is the heart of the hotel and will help you to turn your holiday into an unforgettable experience. The apartments are fully equipped but you can also choose half or full board treatment.
The Hotel La Perla fits in the beautiful Carnia's landscape that during the winter offers a wonderful snowy landscape, while during the warm season shows a riot of colors and scents coming from the meadows and the surrounding woods.
Forni di Sopra (Friulian Alps)
Due to its particular location, the Hotel Davost can be defined as a real sport center. In fact, in addition to representing an excellent starting point for hikes of any level, it offers in its immediate vicinity a number of complete sports facilities, ski runs and much more.
In the hearth of the Dolomites, when mountains get red in the sunrise light, the rays filter through the leaves and illuminate the ancient village where you, dear guest, wake up as a new man, a mountain man, after your stay at the scattered hotel.
The legend spreads and turns into a holiday. Old houses have been refurbished for you. The surroundings form a natural, sincere and intact world, crowded with woods and streams, silence, unique landscapes and things to be seen and discovered with the slow pace of your curiosity.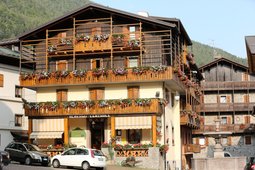 Forni di Sopra (Friulian Alps)
The Coradazzi Family, that has welcomed its guests for generations with warmth and professionalism, will be happy to make you spend a holiday of relaxation and good food, ensuring the utmost care in every detail so that you will long think about your stay in this hotel.
Chalet Rikhelan is a charming historic residence, completely surrounded by nature, located on the ski slope, a stone's throw from the picturesque village of Sauris di Sopra.
At the Al Borg farmhouse you will feel like at home. You can decide how to best live your experience at the farm, helping the owners look after the cattle and harvest the hay, or simply watching the many activities of the farm: there is always something going on here!